SEARCH
CATEGORIES
COINS GALORE!
OUR MOST POPULAR SPECIAL!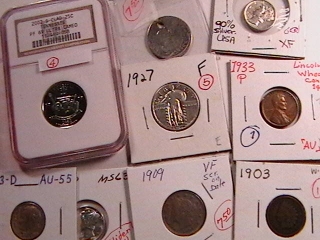 CLICK HERE
FOR MORE INFORMATION!
LIVE HELP
MERCURY DIMES (1916-1945)

Mercury Dimes (1916-1945): Long recognized as one of the most beautiful U.S. coins, the Mercury Dime represents a very popular series. The so-called 'Mercury Head' is actually a depiction of Liberty wearing a cap with small wings at the ears, reminiscent of the god Mercury. The reverse features a fasces (a battle ax surrounded by a bundle of staffs), a design element later made infamous by the Fascists of Italy. The key date is the 1916-D. Semi-key dates include the 1921 and 1921-D. The scarce overdate is the 1942/1-P and 1942/1-D.
Sort By:

Printable View
Item #103765

Item #55629

&nbsp

Item #82264

&nbsp

Item #86167

&nbsp

Item #102279

&nbsp

Item #59245

Item #106082

Item #105036

Item #105835

Item #105431

&nbsp

Item #105584

Item #105659

Item #104211

Item #105632

Item #105701
SHOPPING CART
RESOURCE CENTER
LAYAWAY CENTER
DAILY DEAL!
1914-S Barber Quarter G6 PCGS
$115.00
$99.00
ORDERING HELP | ORDER FORM | ABOUT US | CONTACT US