Empire Rare Coins Order Information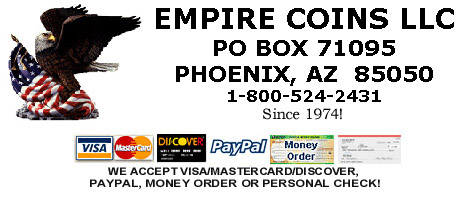 A MESSAGE ABOUT COVID-19 FROM EMPIRE COINS
Updated 2/18/2021

During these trying times, we are very fortunate that our business has not been impacted by this pandemic. As a small family business, we are still able to operate as we always have per our state's guidelines. Although we are shipping out all of our packages in the same timely manner you have grown accustomed to, we are experiencing some postal delays with the USPS recently. The majority of the orders are now arriving on time or a day or two later than normal. In rare instances, some packages have been taking up to an extra week to arrive in worst case scenarios. The good news is that we have not had any lost packages for many months, so you can expect your order to arrive, though it may be slightly later than normally expected. We will keep you informed of any changes in the current shipping situation with the USPS.

We will continue to update this page if anything changes. Our thoughts and prayers go out to all affected by this very serious situation, and we want to give a big thank you to all of our loyal customers and future customers for supporting our family coin business over the last 45 years!

SHOPPING CART
Your cart is currently empty

Subtotal:&nbsp&nbsp $0.00
INFORMATION
LAYAWAY CENTER
DAILY DEAL!
1935-D Buffalo Nickel MS65 PCGS
$285.00
$265.00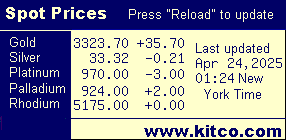 ORDERING HELP | ORDER FORM | ABOUT US | CONTACT US