SEARCH
CATEGORIES
COINS GALORE!
OUR MOST POPULAR SPECIAL!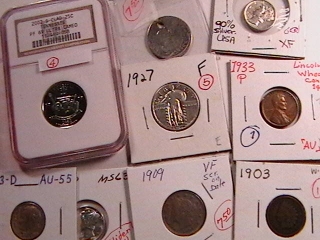 CLICK HERE
FOR MORE INFORMATION!
LIVE HELP
About Us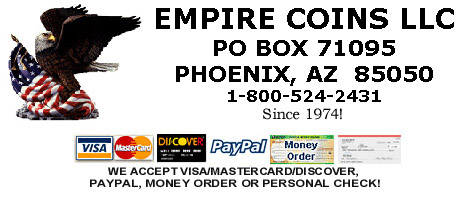 After 20 years of coin collecting, and discovering how difficult it was to order quality coins through the mail, I decided to begin a mail order business. My thoughts were to deliver properly graded coins with good eye appeal. Also, the prices would be reasonable, and the service fast. This was June of 1974. I placed a couple of little ads in the coin papers, and received a few orders. Within the first year, the business grew steadily. I was amazed to find out how many collectors had been short changed on grades and problems that were not noted by shops and mail order. Nearly everyone that ordered became regular customers. I received many letters of appreciation, and comments on how much we had enriched their collecting experience. In a few years, the business had grown so much that I went into it full time, with the help of my wife, Becky. Our inventory and customer base grew through the years. Our two sons, Adam and Bret, were helping with catalogues by the time they were seven. They both went into it full time after getting their education. It's now been over 35 years and we are a family business, with all four of us working. Plus, Adam's two children now help with the lists, and may become full time when they are grown. As a family business, we take pride in the coins we deliver, and the way we treat our customers. In fact, we have exactly the same goals we had in 1974. Deliver attractive, properly graded & described coins, at a fair price, and get them to you as quickly as possible. This is the Empire way of doing business, and we are always appreciative to be able to help you with your coin needs.
Empire Family Coins,
Richard, Becky, Adam and Bret