SEARCH
CATEGORIES
COINS GALORE!
OUR MOST POPULAR SPECIAL!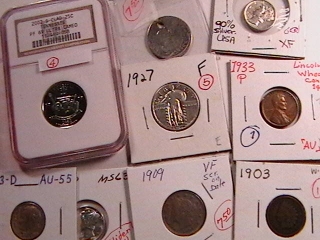 CLICK HERE
FOR MORE INFORMATION!
LIVE HELP
SEATED DIMES (1837-1891)

Liberty Seated Dimes (1837-1891): Composed of 90% silver and 10% copper. The first two years of the Seated Dime (1837 & 1838) showed no stars on the obverse. Later in 1838, they added 13 stars to the obverse, creating two varieties that year. From 1853-1855, arrows were added to each side of the date, and from 1856-1859, the arrows were removed. From 1860-1873, the stars on the obverse were replaced with 'United States of America', creating the "Legend on Obverse" variety. From 1873-1874, the arrows were added back to the date. The remaining years from 1875-1891, there were no arrows.
Sort By:

Printable View
Item #97111

Item #95157

&nbsp

Item #87273

Item #90318

&nbsp

Item #103390

&nbsp

Item #104659

Item #95332

&nbsp

Item #94311

&nbsp
SHOPPING CART
RESOURCE CENTER
LAYAWAY CENTER
DAILY DEAL!
1949-S Franklin Half MS60
$52.00
$45.00
ORDERING HELP | ORDER FORM | ABOUT US | CONTACT US