SEARCH
CATEGORIES
COINS GALORE!
OUR MOST POPULAR SPECIAL!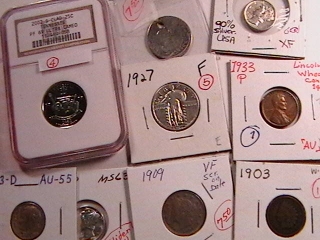 CLICK HERE
FOR MORE INFORMATION!
LIVE HELP
COLONIALS

Colonials coins are made prior to our nationís independence, as well as coins made after 1776 but before the establishment of a U.S. Mint in 1792. Washington Pieces were dated from 1783 to 1795 and are also normally listed as Colonial Coins, although they are of English origin and sometimes well after their dates.
SHOPPING CART
RESOURCE CENTER
LAYAWAY CENTER
DAILY DEAL!
1895-S Morgan Dollar G6
$225.00
$205.00
ORDERING HELP | ORDER FORM | ABOUT US | CONTACT US