SEARCH
CATEGORIES
COINS GALORE!
OUR MOST POPULAR SPECIAL!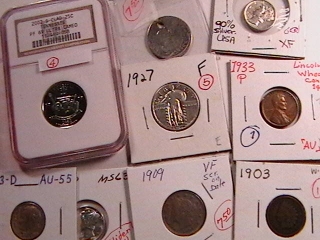 CLICK HERE
FOR MORE INFORMATION!
LIVE HELP
JEFFERSON NICKELS (1938-Date)

Jefferson Nickels (1938-Date): The Jefferson Nickel debuted in 1938, also the last year of the Buffalo Nickel. This was the third coin to feature an American president, Thomas Jefferson. From 1943-1945 the mint struck the Jefferson Nickel with 35% silver as the demand for Nickel was high for World War II. The Jefferson Nickels are a popular series as this set can be completed at a reasonable price. The key dates are the 1939-D, 1939-S and 1950-D, and the 1943/2 is a scarce variety.
Sort By:

Printable View
Item #100404

&nbsp

Item #91652

Item #106185

Item #90025

Item #105355
SHOPPING CART
RESOURCE CENTER
LAYAWAY CENTER
DAILY DEAL!
1932-S Washington Quarter G6
$79.00
$66.00
ORDERING HELP | ORDER FORM | ABOUT US | CONTACT US