SEARCH
CATEGORIES
COINS GALORE!
OUR MOST POPULAR SPECIAL!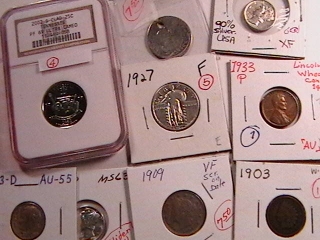 CLICK HERE
FOR MORE INFORMATION!
LIVE HELP
BARBER DIMES (1892-1916)

Barber Dimes (1892-1916): This popular coin type was Designed by Charles E. Barber, who was the Chief engraver of the mint. He also designed the Barber Quarter and Barber Half which have a very similar design. His initial "B" is on the truncation of the neck. The key dates are the 1901-S, 1895-O and 1894-S, although there were only 24 minted in this year making it virtually impossible to acquire.
Sort By:

Printable View
Item #102762

Item #105480

Item #90250

&nbsp

Item #105256

Item #100512

Item #104685

&nbsp

Item #101909

Item #90225

&nbsp

Item #104758

Item #89575

&nbsp

Item #91937

&nbsp

Item #105833

Item #105010

Item #105107

Item #83321

Item #89033

Item #105881

Item #96306

Item #105709

Item #102013

Item #105532

Item #105759

Item #83467
SHOPPING CART
RESOURCE CENTER
LAYAWAY CENTER
DAILY DEAL!
1921 Peace Dollar VF20 Nicks
$89.00
$79.00
ORDERING HELP | ORDER FORM | ABOUT US | CONTACT US