SEARCH
CATEGORIES
COINS GALORE!
OUR MOST POPULAR SPECIAL!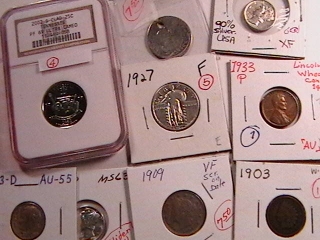 CLICK HERE
FOR MORE INFORMATION!
LIVE HELP
MODERN DOLLARS (1971-Date)


Ike Dollars (1971-1978): The Eisenhower Dollar followed the Peace Dollar and is named for General and President Dwight David Eisenhower, who appears on the obverse. Both the obverse and the reverse of the coin were designed by Frank Gasparro.

Susan B. Anthony (1979-81 & 1999): The Susan B. Anthony Dollar depicts womenís suffrage campaigner Susan B. Anthony. The reverse depicts an eagle flying above the moon, a design adapted from the Apollo 11 mission insignia that was also present on the previously issued Eisenhower dollar. Though it is round, it may appear 11-sided, due to an 11-sided rim bordering the edge of both sides. The design was too similar to a quarter and was often confused.

Sacagawea Dollars (2000-Date): This coin was first minted in 2000 and depicts the Native American woman Sacagawea. Artist Glenna Goodacre used a 22-year-old Shoshone woman named Randy íL hee-dow Teton as the model for the young Sacajawea.

Presidential Dollars (2007-Date)
Sort By:

Printable View
| | |
| --- | --- |
| Item #97674 | |
| Item #98450 | |
| Item #95172 | |
| Item #103848 | |
| Item #104098 | |
SHOPPING CART
RESOURCE CENTER
LAYAWAY CENTER
DAILY DEALS!
SPECIAL DEALS THAT CAN EXPIRE AT ANYTIME!!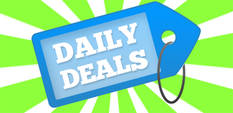 CLICK HERE
TO SEE TODAY'S DEALS!
ORDERING HELP | ORDER FORM | ABOUT US | CONTACT US