SEARCH
CATEGORIES
COINS GALORE!
OUR MOST POPULAR SPECIAL!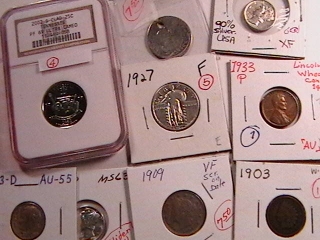 CLICK HERE
FOR MORE INFORMATION!
LIVE HELP
STANDING QUARTERS (1916-1930)

Standing Quarters (1917-1930): The initial design of this coin had a bare-breasted Liberty, which proved to be much too daring for some individuals. The complaints against the design were enough to force a change in the first year of 1917. The re-design was extreme to the opposite degree with Liberty's breast covered in a coat of chain mail! The reverse design was also re-done in 1917. The eagle was moved more to the center of the coin and three of the thirteen stars were now placed beneath the bird. The dates wore off too easy on many of the early dates. Beginning in 1925, the dates on the coins were recessed, giving them more protection from wear.
Sort By:

Printable View
Item #100211

Item #94233

Item #98188

Item #98386

Item #101587

Item #66647

Item #94488

Item #97399

Item #97937

Item #87030

Item #82574

Item #90233

Item #94264

Item #101038

Item #99213

Item #101939

Item #102390

Item #66649

Item #105160

Item #75858

Item #95716

Item #96817

Item #98366

Item #99191

Item #102136

Item #102409

Item #103236

Item #94934

&nbsp

Item #93562

Item #79667

Item #101014

Item #101238

Item #95059

Item #95382
SHOPPING CART
RESOURCE CENTER
LAYAWAY CENTER
DAILY DEAL!
1921-S Lincoln Cent Ch XF45 PCGS
$49.00
$44.00
ORDERING HELP | ORDER FORM | ABOUT US | CONTACT US