SEARCH
CATEGORIES
COINS GALORE!
OUR MOST POPULAR SPECIAL!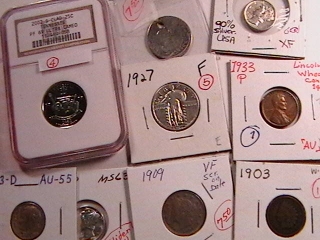 CLICK HERE
FOR MORE INFORMATION!
LIVE HELP
20C PIECES

Twenty Cent Pieces (1875-1878): The Twenty-Cent Piece was an unusual denomination struck between 1875 and 1878. These coins caused much confusion with the public because of the size and design of the coin was so similar to those on the Quarter Dollar. Therefore, Twenty Cent Pieces were struck for circulation only in 1875 and 1876. In 1877 and 1878, they were available only as Proofs.
Sort By:

Printable View
| | |
| --- | --- |
| Item #105958 | |
SHOPPING CART
RESOURCE CENTER
LAYAWAY CENTER
DAILY DEAL!
1927-S Standing Quarter G4
$35.00
$28.00
ORDERING HELP | ORDER FORM | ABOUT US | CONTACT US