SEARCH
CATEGORIES
COINS GALORE!
OUR MOST POPULAR SPECIAL!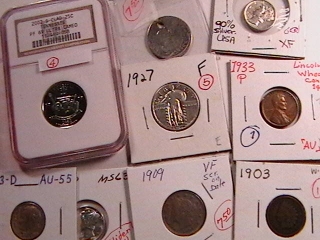 CLICK HERE
FOR MORE INFORMATION!
LIVE HELP
COLLECTIONS & LOTS
This is one of our most popular categories! You will find all of our full or partial collections as well as our groups of coins. Basically, almost anything that is not a single item will be listed here! We sell many discounted groups of coins that we simply do not have the time to list all individually! Our "Coins Galore" is one of our most popular lots. You pick the total price: Coins range from Cents to Half Dollars, sometimes even Dollars! These are lower value coins that we do not have room to list and are sold in groups with heavy discounts on each coin!
Sort By:

Printable View
Item #14623

&nbsp

Item #87690

Item #96224

&nbsp

Item #87691

Item #96874

Item #87693

Item #100934

Item #103700

Item #103733

Item #103783

Item #105701

Item #88099
SHOPPING CART
RESOURCE CENTER
LAYAWAY CENTER
DAILY DEAL!
1924-D Lincoln Cent VG8
$29.00
$24.00
ORDERING HELP | ORDER FORM | ABOUT US | CONTACT US