SEARCH
CATEGORIES
COINS GALORE!
OUR MOST POPULAR SPECIAL!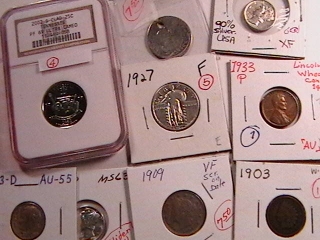 CLICK HERE
FOR MORE INFORMATION!
LIVE HELP
EARLY DIMES (1796-1837)

Bust Dimes (1796-1837): The first U.S. Dimes had a Small Eagle reverse and were minted in 1796 and 1797. In 1798, the Heraldic Eagle reverse replaced the Small Eagle reverse, which was minted until 1807. The Capped Bust Type, with Liberty facing left, was minted for the rest of the series years of 1809-1837. Coins in these series are 89% silver and 11% copper.
Sort By:

Printable View
Item #104683

Item #92140

&nbsp

Item #104857

&nbsp
SHOPPING CART
RESOURCE CENTER
LAYAWAY CENTER
DAILY DEAL!
1921 Peace Dollar F15
$95.00
$82.00
ORDERING HELP | ORDER FORM | ABOUT US | CONTACT US