Empire Rare Coins Testimonials


We constantly receive unsolicited testimonials from our customers! To show our appreciation, we will be posting many of them on this page. If you have a testimonial about Empire Rare Coins that you would like to share, please use the form below to submit. We want to thank our regular customers for all the repeat business over the last 40+ years!


'Always a fair price. Always pleased. Honest dealers. Great shipping price ' - A.O.
&nbsp&nbsp&nbsp
'There is no one I had rather deal with than Adam of Empire Coins. Just received another beautiful coin from Empire. Great price, shipping charges, just as advertised, easy to place orders, and Adam works with you to give you a great deal. I sent a coin in for trade in and was pleased with the trade-in value. - D.M. from VA.
'Just received the 1930 Standing Liberty Quarter PCGS MS 65 FH. It is everything as advertised. Thanks for the great price too. Looking forward to doing more business.' - D.M.
&nbsp&nbsp&nbsp
'These guys are the real deal, 'my fathers coin shop'. I just started using them after 40 years in collecting. Their coins are very nice and there is a detailed description of your coin good or bad for you to read. Their prices are very competitive and service is excellent. Besides everything else the two brothers are just nice guys. So for me its like getting one on one service but on the net. I will buy again' - M.F. of Clearwater, FL
'I just received the 1838 MS64 Coronet Head Large Cent, and it was every bit as advertised. A gorgeous beautiful specimen that would be CAC certified if submitted. I think I got this for a real bargain. Wish I had found you earlier!'
- D.M. from Dublin, VA
&nbsp&nbsp&nbsp
'It is awesome to see your quality, prices and products are top of the line. Thank you very much!' - G. Cardenas. of San Antonio, TX
'I have dealt with EMPIRE COINS for 30 years and some of the reasons I keep going back are-they are trustworthy, reliable, and they have very fast shipping, Their website is so user friendly. Adam and Bret are very professional and so easy and pleasant to deal with. What an awesome Layaway plan they offer-never seen 1 like it before, Where else do you see a dealer offer you a price on coin voucher you sell them and list the price they will sell your coins for. I recommend them very highly!'
- R.C. from C.V., CA
&nbsp&nbsp&nbsp
'Started collecting coins in 1984. It's fine to shop on eBay, but if you are going to be a serious collector you look for a dealer you can trust. Empire Coins is that place for me. I have bought a lot of coins from this site. From my personal set of Carson Dollars to the coins I buy to re sell at craft shows I work. Their gradings are fair and description of coins is very helpful. If the coin has a flaw, they tell you. If it has cleaned it is listed on the flip or holder. Also when it comes time to sell or upgrade you know they are very generous and fair. Especially if you bought the coin from them. I have recommended their shop to people who stop by my booth. Knowing they can usually get a coin they need at a fair price. Empire Coins is my go to shop!' - R.S. of St. Martinville, LA
'Freaking love my coins!!! Thanks so much for working with me on lay away also! Being 24 years old you will have me as a customer for a long time lol thanks again my friend.'
- S.S.
Elwood, IN
&nbsp&nbsp&nbsp
'I have been a loyal customer since your older paper catalogs...on and off buying as my interests vary but always go to your site when buying coins, and your layaway has been great and unchanged. Thanks for the 'Good Old' business and trust!' - C.P. of Lake Worth, FL
'I received both of my coin orders this morning and I am very pleased. Thank you for your great service. I look forward to future purchases.'
- J.W.
Fremont, OH
&nbsp&nbsp&nbsp
'Thank you for the great customer service ! You always get back to me right away and communicate well . I am impressed with your website and items' - W.D. of Ventura, California
'I have been a customer of Empire Coins for many years. I have always received superb service. I have never had to return any coins. Your Layaway plan is great!'
- Tom B.
Menahga, MN
&nbsp&nbsp&nbsp
'I really love buying coins from you guys. I always receive the coins quickly, your quality is excellent and prices are very reasonable. I will continue to be a customer for many years to come!'
- Bob D.
'I've been doing business with Empire since 1992 and have never had a problem. Conservative grading, quick shipments, and a great website. I highly recommend!'
- M. Morrison
'After trying several coin companies, I now only buy from you guys! Your grading is spot on and your prices are lower than the rest. Can't believe how quick I received my coins! Thank you!
- J. Curtis
'I will highly recommend Empire to everyone I know. I am very happy with the quality, quantity and price of the coins sold. I find that you have one of the best web sites for coins and I check often. Thank you.'
- R. Anderson, Norton, MA
'You guys really ship fast no one has beat you yet.'
- L. Cecere Middletown NJ
'I found your web site while glancing at my coin world magazine and I'm glad I did. I've been a loyal customer since, I find your quality of coins and selection the best yet and will continue to shop. Thank You'
'Good fast service is something you don't get very often, but you are the exception. I will be ordering more coins very soon. Thanks'
'I am pleased with the way that Empire does business with its customers. I highly recommend them'
- P.C. Willet, NY
'You guys have the best web site ever. The coins are top quality and reasonably priced. I recommend you to my coin collecting friends.' - C. Phillips
'I like Empire's fair prices and its fast service. I've been doing business for years with Empire, and I have not yet been unsatisfied with my purchase or service. Keep it up, Empire!'
J. Marcinek
'The Carson City Trade Dollar graded by ANACS has arrived. I am delighted with the coin and highly recommend Empire Coins. P.S. - Shipping is really fast too!'
P. Chrismer Willet, NY
'Hi. I just wanted to thank you for your layaway plans it helps me to get coins i could not otherwise buy at one time. I was very pleased to receive my coin two days after i paid it off. I know you are busy but had to tell you how great you are. Thanks again!'
T. Marlowe Mooresville, NC
'Your grading of coins is very fair. I watch your Web page everyday! Thanks for good service also.'
R. Roth of Folsom, CA
'I wanted to tell you that I had first seen your ad in Coinage magazine and have been looking at your site for sometime now and admiring the amount transparency which you use in operating your business. I must be honest though in saying that I was at first hesitant though as I thought it a little scary to purchase or sell to a coin dealer online. However, after selling those 3 coins to you and seeing the level of honesty in which you operate all my past hesitations are gone and I look foward to being your customer long into the future. Good and honest coin dealers are hard to find in my opinion, but you have proven yourself to be both as your level of service far exeeded my expectations. I'd like to take the opportunity to thank you for making our first transaction as pleasant and perfect as one could hope for.'
'I just couldn't believe how fast they processed the order and got it on the way. I received it in 2 days after I ordered it. They are great about returns, too. You get store credit or credit on card. I am glad I found this site for old money!'
J. Switzer of Angleton, TX
'Always delivers fast & friendly. Coins are just as descibed. One of the BEST COIN BUYING Sites on the Internet...THANK YOU,THANK YOU EVER SO MUCH!!!! Great Product and alot to choose from..I`LL BE BACK'
Sun & Steven Ludwig
'I have been buying coins from Empire for years now and have never been dissatisfied - And I have an inch thich stack of receipts to prove it! His prices are by far the fairest around and you never have to second guess his grading. I would rate him the top dealer hands down. Never once have I had to return a coin. I live across the country and I have always received my purchases in 2-3 days.'
- R. Sarvis, Port Huron, MI
'I recieved my 2007 proof silver quarters in the mail this morning. As always I appreciate how fast my orders are processed and delivered. My Grand daughter will love these since she broke her arm last week and these will be one of her presents from Papa Art. I will continue to shop and buy from your company. Agains thanks.....'
- A. Ward of Glen Carbon, IL
'I have been buying coins from many internet sites - EMPIRE BEAT`S THEM ALL!! You order some coins and that same day they are on there way to you! Fastest turnaround ever - And they are exactly 100% honest in thier description of the coin. Thank GOD for GR COINS. I`ll do all my buying here from here on in!! Thank You,Thank You,and Thanks!!!!' '
'I came across this site while surfing the net. At first I was skeptical having never bought anything from them before. After placing my order I received almost immediate confirmation of my order and then a follow up email updating the status that my order was shipped. I got my coins within 2 days and the quality was great. This dealer is my first place to search for the coins I need to upgrade and complete my sets. I HIGHLY recommend them.'
-M. Gouveia
'I just wanted to let you know that I was quite pleased with my recent purchase from your store. The order was shipped very quickly with the exact coins that I asked for. I am certain that I will purchase more coins from you in the future. Thanks again'
-R. Spears
'Nice Prices. Great customer service. Very happy with every purchase.'
-L. Thayer Clayton, NY
'I thank you so much for being the best on the web. I don't thank you enough when I order from you and sometimes I forget to send feedback to you. Just know that I do appreciate you, especially your honesty and integrity. You are so great I just keep coming back for more!!!! Thanks again, Guys!'
-B. Walton
'Can't believe how fast you are in sending items out. Thats GREAT...Thanks again'
-Phil
'Wow. I'm amazed. I recently ordered for the first time from the Empire and was astonished to receive my order in three days. And that was over Easter weekend ! The last place I ordered from (I won't name any names) took over three weeks and had to backorder two coins. Congratulations, Empire, you've found another loyal customer. Thanks and kudos to you!'
-C. Hughes, Lake View, AL
'Very pleased wth your grading and fast service. Thanks!'
-Frank, Arizona
'Gentlemen, Just wanted to say that your service is unsurpassed. Excellent grading job and quick delivery service makes it a pleasure doing business with you. Keep it up!'
-T. Dimino, Va. Beach
'Thanks again for quick and friendly service. I can not say enough about ya'll. My last few orders were so fast! In less than a week, I received my orders. YAY!!!!'
- B. Walton, Hamburg, AR
'I bought a 1982-D Washington 50 Cent Commemorative from you and sent it to PCGS for grading, it came back an MS69...a very RARE grade for that date and coin, it is listed by PCGS at $600.00 in MS69...out of thousands graded only 158 made MS69....i bought it from Empire for under $10.00...good investment...as well i bought your 1992-D White House $1 commemorative and it came back from pcgs as MS70 - PERFECT under 5x magnification and valued at $450.00 !!.....'
- S. Ludwig
'received 1921 Standing Liberty Quarter today; thank you for the fast shipping'
- J. Wright
'A very professional operation. When I had a question on the coin's appearance in the picture it was immediately examined and politely reported back to me. (The item was fine, a shadow made the edge look a little odd.) So what I got was exactly what was described. Communication was clear and shipping was just as promised. A good job all the way through!'
- Richard W., St. Paul, MN
'I have been buying coins from these folks off and on for around 15 years. I especially like the detailed descriptions of the coins they have for sale, the grading and anything that is good, bad, or otherwise. The prices are very reasonable and honest. I have never been dissatisfied with any of the coins I have bought from them. '
- JFos, CO / KS
'Just a quick note to tell you how g r e a t you are. I'm going to cancel my subscription with Numismatic News. All they have is advertisements in there from the rich cats and no coin news, However I got the 2010 industry directory from them and I went through EACH 1 on the internet and discovered you have to be a millionaire or put up with the over graded coins or thieves.. Empire You are NUMBER 1 and it is a shame all the collectors don't know about you' - R.C. of Chula Vista, CA
'Very pleased with my recent purchase of 1946-1951 Roosevent dimes. I'm just starting to backfit my coins pre 1955. I will be a return customer, very competitive prices, great deivery and packing.'-W.L.Robertson
'I just want to say that this coin dealer is far and away the BEST I have EVER encountered on-line. I routinely compare prices and quality between SEVERAL on-line dealers, and I have yet to find anyone to compare price and quality wise. To be honest, there ARE a couple of sites the have wider selections, BUT...... you end up paying PREMIUM prices, and the grading is sometimes exaggerated. I have found that when Adam grades a coin, he is often VERY conservative. I put in a coin "want" and in less than a week I got an e-mail from Richard that he had what I wanted. The service is incredible --- why would anyone who is a serious collector go anywhere else?'- A. Minehardt, Schnectady, NY
'VERY FAST DELIVERY!!! Great looking coins. A pleasure to deal with. '- J. Fletcher
'I have been collecting for over 40 years and I have never met a better and more honest Dealer !! In the last 10 years of dealing with Empire, I have never had to return a coin. Always Excellent Service !! Thanks Empire ! ' - D. Stading - Austin, Tx
'Great quality coins and fast shipping. Highly recommended.'
M. Miranda
I stumbled onto your site and was very surprised with it .Number one with me from now on. I got my coins in two days and was very happy with the quality and prices. Will be doing all my business with Empire from now on. Great service and quick delivery THANKS - Terry

SHOPPING CART
Your cart is currently empty

Subtotal:&nbsp&nbsp $0.00
INFORMATION
LAYAWAY CENTER
DAILY DEAL!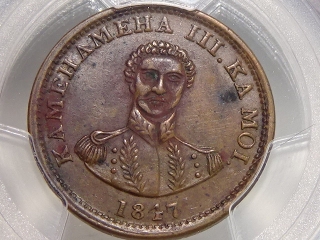 1847 Hawaii Cent AU Detail PCGS
$275.00
$259.00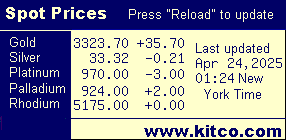 ORDERING HELP | ORDER FORM | ABOUT US | CONTACT US