SEARCH
CATEGORIES
COINS GALORE!
OUR MOST POPULAR SPECIAL!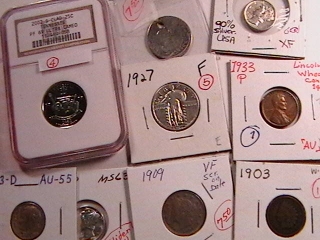 CLICK HERE
FOR MORE INFORMATION!
LIVE HELP
THREE CENT SILVERS

Three Cent Silver Pieces (1851-1873): These are the smallest U.S. silver coins and were minted from 1851-1873. From 1851-1853 there were no lines around the obverse star. From 1854 to 1858 there were three lines bordering the stars, an olive sprig over the "III" and a bundle of arrows below it. In 1859-1873 there were just two lines around the stars.
SHOPPING CART
RESOURCE CENTER
LAYAWAY CENTER
DAILY DEAL!
1896-O Barber Quarter G4
$55.00
$42.00
ORDERING HELP | ORDER FORM | ABOUT US | CONTACT US