SEARCH
CATEGORIES
COINS GALORE!
OUR MOST POPULAR SPECIAL!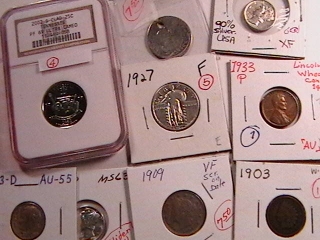 CLICK HERE
FOR MORE INFORMATION!
LIVE HELP
Dear Friends:
After nearly 12 wonderful years of business, we will be closing our doors as G.R. Coin Company at the end of this month. We have been purchased by a local coin company, Empire Rare Coins also in Scottsdale, Arizona. First and foremost, I want to thank every customer including many loyal repeat customers for all the patronage, kind comments and conversations over the years. Secondly, I want anyone with a layaway or pending order to NOT WORRY IN ANY WAY. I will be at the same e-mail address and phone number for another full year to take care of all my wonderful customer's layaways. Nothing will change in any way for you and you can make payments anytime by e-mail, phone or standard mail just as you have been doing. We can still keep or set automatic monthly payments as well.
The exciting part of this change is Empire Coins is a company that I have known for many years. In fact, they have been in business for nearly 35 years. There grading standards are very similar to mine, they will even be selling most of our remaining inventory as it is currently graded and described. I know you will find that they do business very similar to how I have done over the past decade. The best part is they will be keeping our large inventory of coins while adding thousands of exciting new coins! This includes lower priced coins and common coins as well as many scarce key and semi-key collector and investor coins. I have known them long enough to know they treat their customers very well. The website that you are familiar with will still operate almost exactly the same! Your user accounts will all remain intact without any change. You will still be able to access your previous orders with G.R. Coin Company including your layaways. Basically, most things will remain the same but the number of coins will increase dramatically!
From now until the end of February, we will be listing our absolute lowest prices on ALL coins in our inventory in attempts to clear out as much as we can. The listed price will be the lowest possible price we can list them for every item without exception. No coupons can be used with these special prices including the free shipping coupons. Any gift certificates will be fully redeemable at anytime. We will no longer be accepting layaways until March 1st when Empire takes over. We can still take full payment orders via Visa, Mastercard, Discover, Paypal, Personal Check or Money Order. We will still offer our full, 10 day return privilege less shipping. We invite you to come by and take a look around. We will be listing our final new arrivals on February 25th. Remember, once these coins are gone they are gone! If you have had your eye on a particular coins or coins, now is the time to get them!
Sincerely,
Garrick Roberts
Owner, G.R. Coin Company
SHOPPING CART
RESOURCE CENTER
LAYAWAY CENTER
DAILY DEALS!
SPECIAL DEALS THAT CAN EXPIRE AT ANYTIME!!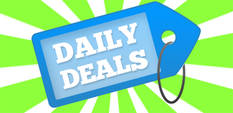 CLICK HERE
TO SEE TODAY'S DEALS!
ORDERING HELP | ORDER FORM | ABOUT US | CONTACT US